Cars are our passion at AW Automatics, we have a long history of delivering transmission solutions for performance and race vehicles.
Our Performance upgrades include Shift Kits, Hi-Stall Converters, Frictions & Bands, Heavy Duty Drums and Torrington Bearings.
If you have a high performance vehicle with a standard Transmission, you may be looking for improved performance, better gear shifting qualities or reliability against breakages.
Whether you have a Street Car, Drag Car, or Off-Road vehicle, an upgraded Performance Transmission will contain racing components which increase strength, reliability and torque capacity.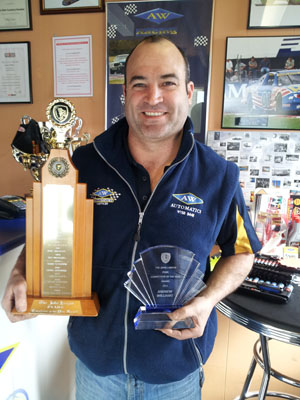 Our Motorsport History
Andrew Williams, head of our Motorsport division, has extensive experience and knowledge in the Motorsport industry. Having been personally involved in Motorsport since the age of 15, Andrew has run successful race teams in Speedway and Circuit racing in many different categories. Andrew's expertise includes car preparation, chassis engineering, corner weighting, suspension setup and alignment configurations.
In 2012, Andrew won the prestigious "John Lanyon PIARC (Phillip Island Auto Racing Club) Competitor of the Year" award. This award shares a great history, going back to 1981 and Andy's name appears in the records and on the perpetual trophy alongside names such as Craig Lowndes, Greg Murphy, Terry Wyhoon, just to name a few.
Since being presented with this award, Andrew has also taken a Category win in the "Group NC" Historic Division at the 2012 'Australian Muscle Car Masters' event at Eastern Creek. In his XU1 Torana, Andy took a Third place followed by three race wins in the following races, including the feature race, to take out the title.
AW Automatics has also enjoyed success on the Drag Strip with our performance transmissions so whether you have a Quarter Mile car, Muscle Car, Hot Rod or Street Machine, we have a custom performance transmission that will suit your needs.
For further information regarding performance transmissions or Racing applications, speak with our specialist, Andrew, who is only a phone call away and happy to advise you on your individual needs.